In 1588, a ship named Mayflower of 200 tons, commanded by one Edward Banks, took part in chasing the Spanish Armada up the Channel. She was commissioned and financed on that occasion by the City of London. One of her owners, John Vassall, of Stepney, moved in 1591 to Leigh-on-Sea, near Southend at the mouth of the Thames. A Mayflower of Leigh appears in the London port books of 1606, taking on a cargo of cloth for Middelburg in Holland; her master was Robert Bonner of Leigh. A year later, Robert Bonner was listed as master of the Mayflower of London, unloading a cargo of wine from Bordeaux. In 1608 Bonner was listed as master of the Josian, whose master in 1606 and 1607 was Christopher Jones. In 1609 Jones appeared as master and quarter owner of the Mayflower of London.
From then on, this Mayflower sailed fairly regularly to the French ports of La Rochelle and Bordeaux, carrying cloth, hose, and rabbit skins, and bringing back wine and brandy. In 1609 she brought furs from Norway, and twice in 1614 she fetched home silks from Hamburg. On Tuesday, May 23, 1620, she docked in the Port of London from La Rochelle, the second voyage to France that year. Something more than two weeks later, Weston chartered her for the crossing to New England.
The ship on which Weston and Cushman, the English agents of the Pilgrims, had taken an option over the weekend of June 10-12, 1620, was considerably smaller.
Available records indicate that by 1624 the Mayflower of Pilgrim fame had three joint owners, Robert Child, John Moore, and Mrs. Josian Jones, widow of the captain. These three applied in that year to the Admiralty for an appraisal. It was carried out by four mariners and shipwrights of Rotherhithe, who valued the vessel at the unpretentious total of one hundred and twenty-eight pounds, eight shillings, and fourpence. One eminent historical researcher, Dr. Rendel Harris, was so convinced that that figure was preposterously low that he wrote in 1920 that it must have represented only the widow's share.
Some historians suggest the Mayflower was broken up after the 1624 appraisal.
But looking further into historical records unearths the will of one Robert Sheffield of Stepney, dated September 10, 1625, in which his share of a ship named Mayflower was bequeathed to his wife Joan or Josian. Some think the legatee was the widow of Captain Jones. If it was, she had married three times and went on to make it four, for Robert Sheffield's widow married Simon Jefferson of Blackfriars in 1630, and thereafter Sheffield's other heirs commenced a lawsuit against Jefferson in 1636 concerning "the Mayflower and other property."
Confusing things further is the fact that in 1621 Captain Richard Swan sailed in the Hart to the Arabian coast, a voyage listed in the marine records of the East India Company. Swan joined a fleet which set out from the port of Surat in the Punjab on April 6. The fleet, heading for the Persian Gulf, captured on May 1 a two-hundred-ton Portuguese vessel, the San Antonio, bound for Goa with a cargo of rice. This prize was renamed Mayflower. She sailed so badly (Swan called her "that leeward cart") that she delayed the fleet, but on June 7 four ships, London, Andrews, Primrose, and Mayflower, anchored beyond Ras-al-Hadd, referred to by the English as Cape Rosalgate. Here they enjoyed "all sorts of refreshments" until a guerrilla force of "certain Portingals" arrived to defend the port and drive the English out. The English counter-attacked, defeated the Portuguese, and "for their dishonesty burned the town and spoiled many of their date trees." Then the fleet went on to the Persian Gulf where the newly named Mayflower, which had been leaking badly, was broken up for firewood. The account of the whole affair was written by Richard Jefferies on October 5, 1621.
For us today, it is clear that the ill-fated San Antonio had not the remotest connection with the Mayflower of Plymouth fame. But what has really muddled historians is the Mayflower of 1629 and 1630. Thomas Prence wrote in his journal in August 1629: "Thirty-five of our friends with their families arrived at Plymouth. They shipped at London in May, with the ships that came to Salem, which brings over many pious persons to begin the churches there. So that their being long kept back is now accomplished by Heaven with a double blessing.... The charge is reckoned on the several families, some fifty pounds, some forty, some thirty, as their numbers and expenses were, which our undertakers pay for gratis, besides giving them houses, preparing them grounds to plant on, and maintain them with corn, etc., above thirteen or fourteen months, before they have a harvest of their own production."
James Sherley sent a letter with the new arrivals, dated March 25, 1629, which said in part: "Here are now many of yours and our friends from Leyden, coming over who though for the most part be but a weak company, yet herein is a good part of that end ordained, which was aimed at, and which hath been so strongly opposed, by some of our former Adventurers. But God hath His working in these things, which man cannot frustrate. With them we have also sent some servants in the ship called the Talbot that went hence lately; but these come in the Mayflower."
And Captain John Smith wrote under the date 1629: "In this year a great company of people of good rank, zeal, means, and quality, have made a great stock, and with six good ships in the months of April and May they set sail from Thames for the Bay of Massachusetts, otherwise called Charles River; viz. the George Bonaventure of twenty pieces of ordnance, the Talbot nineteen, the Lions Whelp eight, the Mayflower fourteen, the Four Sisters fourteen, the Pilgrim four, with three hundred and fifty men, women and children."
The master of the Mayflower was William Peirce. Roger Harman commanded the Four Sisters and William Wobridge the Pilgrim. (note the use of "Pilgrim" as a ship's name)
In 1630 the Mayflower sailed from Southampton with the Whale. She was listed as "Mayflower of Yarmouth." William Peirce was by then master of the Lion.
A Mayflower of Yarmouth, tonnage between 240 and 250, owner Thomas Howarth, is registered as sailing under letters of marque to the fishing grounds off Greenland on July 23, 1626, October 3, 1627, and June 29, 1631.
Then there is the Mayflower commanded by Thomas Webber of Boston, the ship that brought an order of canvas to America from England in 1654 for one John Eliot. This Mayflower is described as being about two hundred tons , and when she was riding at anchor in Boston Harbor on October 6, 1652, Webber sold one sixteenth of her "for good and valuable considerations" to one John Pinchon of Springfield, Massachusetts. Next day he sold another sixteenth to Theodore Atkinson, a Boston felt maker, "as well as of said ship as of all and singular her masts, sails, sailyards, etc."
A British scholar, Sir Edwin Arnold, speaking in 1889 at Harvard on the subject of Sanskrit studies, told his audience about a Mayflower that had been sunk off the coast of Coromandel in 1659. He mentioned Masulipatam and Malabar. This Mayflower, he said, was 240 tons burden, carried twenty-four guns and a crew of fifty-five, and had sailed to Coromandel with the Eagle and the Endymion in 1655. The three ships had arranged to rendezvous at St. Helena on the way home if they happened to get separated at sea. This Mayflower had arrived at Plymouth, Devon, on August 26, 1657, and had set out for Coromandel again on February 22, 1658, with a cargo of bullion worth £7500. She had sunk the following year, apparently in shallow water, for the wreck passed into the hands of an Indian broker in Surat on February 16, 1660, and he managed to repair the vessel sufficiently to use her afterward for local trading, though she was never again capable of navigating the open sea.
Dr. Rendel Harris patiently worked out the comings and goings of every Mayflower recorded in the English port books for the first two thirds of the seventeenth century. What he found out includes specific information about Christopher Jones's (and the Pilgrim's) Mayflower.
On January 28, 1620, Jones brought the Mayflower in to London and landed a cargo of 113 1/4 tons of French wine in eight lots, the biggest 30 1/4 tons, the smallest 8 tons. During the next three days Jones unloaded a further 37 3/4 tons in four consignments. On May 15, 1620, the Mayflower brought in another wine cargo, 50 1/4 tons of ordinary wine and 19 of "conyacks wine" (cognac).

Source: http://www.americanrevolution.org/may4.html
HMS MAYFLOWER ship model plans: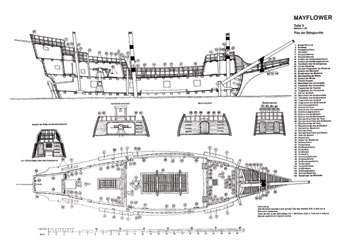 33' 4" bilge keel cruiser "MYNONIE"
She's sort of a Maine Peapod on Steroids......

The best thing about the boat design business is the people I get to meet. While most dealings are through the mail, occasionally I get to meet the person "live," and often this ends up being a lot of fun.
Rosalind Hildred is such a person. We corresponded for months, and then she decided she wanted me to design her new boat. Even though she is most definitely NOT a male, in the interests of being Politically Correct, I'll try to describe her as though she wasn't a drop dead gorgeous female.
Among Rosalind's family includes a former governor of Malta, and as a result she is very much that wonderful traditional first generation west coast Canadian that is so British because of their upbringing, but being born and raised in North America, they are tempered enough to be bearable (just teasing, you know. God knows the Brits have their fun at Yanks). She's quite fit, blond, and lives on an Island in B.C. in a waterfront house she built herself. She has a small boatbuilding facility and mill, and saws her own lumber from the wealth of logs still to be found up there. She has two strapping sons and a boyfriend on another Island who flies in by seaplane.
Rosalind arrived at my office in a 1960 powder blue Morris Minor, bearing a half gallon of duty free whiskey she got at the border. I can't imagine traveling in a 35 year old Brit car, but then I'm not British. In my travels I've discovered that the Brits, more so even than the Krauts, are capable of endurance and "keeping your _____ up" (as they say) in situations where I'd likely just sit down and rest. Of course since this car is not only a Morris but is 35 years old too, it does require a bit of work every now and then, but people who travel in such things just say that's to be expected and they cheerfully keep fixing it. Before Rosalind could leave here, the Morris required a bit of water pump attention, and seeing her flat on her back below the Morris, swinging her wrenches, was a sight I'll never forget and my wife STILL teases me about....
Anyway, to the boat. The goal was a seaworthy sailing boat, easily handled, but capable of living on a mooring that goes dry every tide. That last part was the problem. Centerboards are a real hassle because they can plug up with mud when the boat grounds. I've always thought leeboards had a lot going for them, but Rosalind wanted bilge keels so that's what we drew in. Although popular in Europe, bilge keels have never been particularly accepted here in the US. I think if they're built heavy enough where they can take the abuse they are bound to get they make sense. We solved the potential structural problems (I hope!) by making them rather shallow, and long. Rather than go for "optimum" current ideas of keel waterflow shape, I drew them out as long fins laminated in place from 5 1/2" wide stock, tapered to 3" wide at the outer ends, heavily through bolted into a solid stringer behind the frames. I think they can bang away on an exposed beach for a while. To further help them stand up to abuse, the main keel of the boat is just a bit deeper than the bilge keels so it will take the main weight of the boat when it grounds. While it's never any fun to actually TEST your theories of sufficient structural integrity, building in a way that LOOKS heavy enough seems to work for me. I've been lucky enough not to have structural failures, so far....
Rosalind knew exactly what she wanted, and in the two days she was here we went through a variety of lines and hull forms until she was happy. She kept my nose to it, refusing to pay attention to my attempts at making it my vision. This of course is what makes a successful custom design; it's what the customer wanted, not what the designer steered the client to. As usual, the computer really helped here. After we got the basic look we wanted, we then loaded the work on a second computer and ran the two side by side, making small changes in each and comparing back and forth. As untraditional as CAD may feel to some people, the power it gives to editing is what makes me stay with it. Nobody drawing by hand could make the many versions of a lines plan I routinely do before deciding on a "finished" version. It wouldn't be possible! There's no question that CAD hull programs have totally revolutionized the design process.
The hull we ended up with is quite beamy and rather shallow. Although it is a rather simple round bilge hull and doesn't have reverse curve anywhere, it still has a very attractive rather "high shouldered" sectional shape. Rosalind wanted the slight tumblehome in the midsection area. This is rather unusual, but it looks good. The sections flow smoothly and would be easy to cold mold diagonal layers to if you don't care for traditional planking. It's very voluminous for its length and should be quite stable. It's not a hull form that will like to point well into the short choppy waters often found around the Canadian Gulf Islands, but it has an 16 HP Sabb diesel for that. Besides, Rosalind wanted to use the two masted Junk rig which is not known for pointing. It's interesting that the Junk rig is quite common up in B.C. The rig makes sense because it is so low tech. The full batten low aspect rig has hardly any strain on the sail and the flat shape is easy to make yourself. One Canadian told me he made his sails from a blue plastic tarp, and they held up to a trip down the coast to Mexico and back. Total cost was around 100 dollars....

The construction of the boat is wood. Rosalind saws her own logs and it was a whole new experience for me to specify materials that were NOT based on off the shelf lumber dimensions. What freedom! This was the first time I could totally disregard "waste" and I had the time of my life speccing out things like "1-3/8" x 2-1/4" or 1-7/8" x 2-3/4", just like the Old Boys used to do before wood became an exotic and rare material. Builders without access to their own old growth logs can modify the dimensions to the closest available dimension, or of course the boat could be completely cold molded up in the latest fashion.
However, Rosalind is using pure old time traditional wood construction with the exception of the deck and house roof beams, and the frames between the main frames. These are laminated. Construction is stout. The main frames are double sawn of two layers of 1-3/8" making a finished frame of 2 3/4"x 2 1/2". Planking is 2" red cedar, and there is a 1/2" red cedar ceiling. Decks are planked from 1 1/2" x 2 1/2" red cedar. The keel is sawn from full 12" wide logs. All fastenings are silicon bronze and there is a tremendous hand forged bronze stem iron that my friend Smitty found on a remote Alaskan Island and gave to me. It looked made just for this boat and will fit on with hardly any forging and, contrary to my nature, I seem to remember I gave it to her.

Rosalind wanted just 5' 9" headroom which is enough for her. I suggested raising the house a few inches, but I suppose taller people will bump their heads once and then learn. The Canadian Islands are some of the best summer cruising in the world, and this boat's interior will be very comfortable for extended trips. It has a large galley, a comfortable double bunk, and lots of storage. It's not a very "clever" interior because the emphasis is on elbow room for two.
Certainly there's room to make a more normal interior, but what do you give up? If the boat normally just has one or two people aboard it makes more sense to have an interior comfortable for them, rather than giving up something to make bunks for occasional guests.

The boat's name, "MYNONIE", is for Rosalind's British mother. I haven't met her but she sounds as though her influence has much to do with her daughter's gutsiness. For example, a few years before we worked on this design the two of them hitch hiked from Canada to Mexico and back!
I lost touch with Ros for probably 10 years then out of the blue (Jan 06) got an email from her. Unfortunately because of a variety of personal issues the boat was never finished, and, she's living in Belize now. Oh well, that's the way things go but the most important thing of course is that she's still going strong!
Particulars
LBP: 33' 3"
LWL: 29' 6"
Beam: 12' 2"
Draft: 2' 6"
Displacement: 14,086 lbs.
Prismatic Coefficient: .608
Block Coefficient: .278